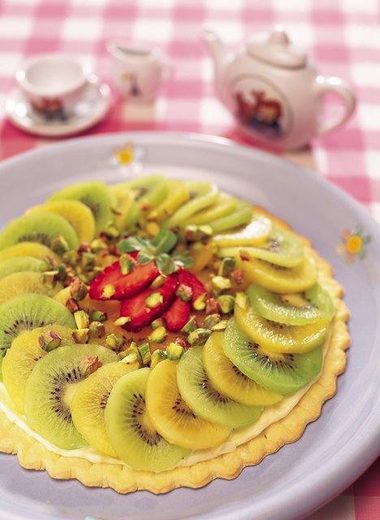 INGREDIENTS
For Base

1 cup (125 g) self-rising flour
2 tbsp sugar
1/4 -1/2  cup (60-125 ml) milk
1 tbsp melted butter


For Topping

3 Zespri™ SunGold Kiwifruit
2 Zespri™ Green Kiwifruit
4 tbsp (75 g) cream cheese
3-4 strawberries or grapes
1/4 cup chopped nuts

METHOD
Preheat the oven to 190°C (375°F).
To make the base, combine the flour and sugar; then, add enough milk to make a soft dough.
Pat out on a lightly greased cookie sheet to form a 7 to 8 inch (18-20cm) circle.
Flute the edges, if desired.
Brush the dough with the melted butter and bake for about 12 minutes, or until golden and cooked. Set aside to cool completely.
Peel and slice the Zespri™ Kiwifruit into rounds.
Mash one Zespri™ SunGold Kiwifruit with a fork, and combine it with the cream cheese.
Spread cream cheese mixture over the finished pizza base.
Top with slices of the remaining fruit, alternating green and gold slices and filling the centre with strawberries or grapes. Sprinkle with nuts.
The pizza can be briefly grilled and served warm if desired.
Alternatively, serve it at room temperature. Excellent served with yogurt or ice cream.