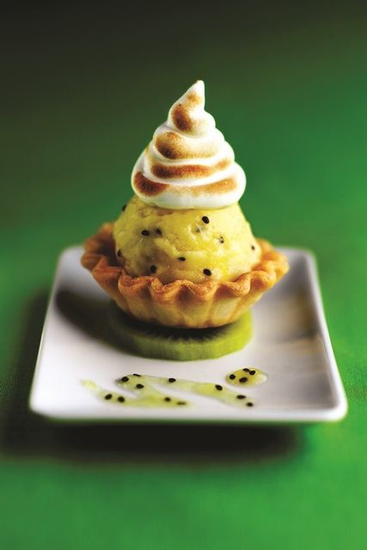 INGREDIENTS

Zespri™ Kiwifruit Curd Filling:
1/2 cup / 125 ml Zespri™ Green Kiwifruit puree, strained, add some seeds back
3 eggs
3/4 cup / 175 g sugar
1/2 cup / 125 ml lime juice
freshly grated zest from 1-1/2 lemons
6 tbsp / 90 cold unsalted butter

Pastry Tartlets:
1 cup / 100 g flour
4 tbsp / 50 g chilled unsalted butter, cut into pieces
1/4 tsp / 1.25 ml salt
1 egg yolk
1/4 cup / 60 ml Crème fraîche

Sauce:
1-3/4 cups / 475 ml kiwifruit puree
1/2 cup / 125 ml corn syrup

Meringue:
1/2 cup / 125 ml egg whites (about 4 eggs)
1/2 cup / 125 g sugar

METHOD
Toasting the meringue at the end, a touch borrowed from Baked Alaska, gives these tarts a caramelized, toasted-marshmallow flavor.


Place flour, butter and salt together in food processor and process until the mixture resembles fine meal. In a small bowl blend egg yolk and crème fraîche together. Add egg mixture and process until dough barely comes together. Wrap in plastic wrap; refrigerate for 2 hours or up to 3 days.
In a large sauce pan bring 5 cm of water to a boil; reduced to simmer. In a medium bowl place eggs, Zespri kiwifruit puree and beat until light and fluffy. Add sugar, lime juice and lemon zest. Place bowl over the saucepan, making sure the bowl doesn't touch the water. Cook until the curd is thickened, beating occasionally. Remove from heat and beat in butter; one tbsp at a time. Let the curd cool to room temperature, cover and freeze overnight or up to three days.
In a small bowl mix the 1-3/4 cups (475 ml) Zespri kiwifruit puree with the corn syrup to make the sauce. Preheat oven to 375°F (190°C).
Flour a work surface. Roll out pastry dough to 1/8 inch (3 mm) thickness. Cut out 3 inch (7.5 cm) rounds. Transfer the rounds to 2-1/2 inch (6.5 cm) tart shells and prick them with a fork all over. Bake until they are golden brown, 12 to 15 minutes. Let cool. May be made 3 days in advance.
Up to 6 hours in advance arrange pre-baked tartlets on cookie sheet. Using a small ice cream scoop (#40) place a ball of Zespri kiwifruit curd on top of each tartlet. Freeze until needed.
In medium bowl beat egg whites until foamy, add sugar and continue beating until stiff and glossy. Transfer to pastry bag fitted with a small plain tip. Pipe meringue, spiraling around and up the Zespri kiwifruit curd forming a dome and gradually enclosing the top to create a beehive. Heat the broiler to very hot (or use the kitchen torch) and broil briefly until the meringue is lightly browned all over.
Spoon Zespri kiwifruit sauce on each plate. Place beehives on top of sauce and serve immediately.