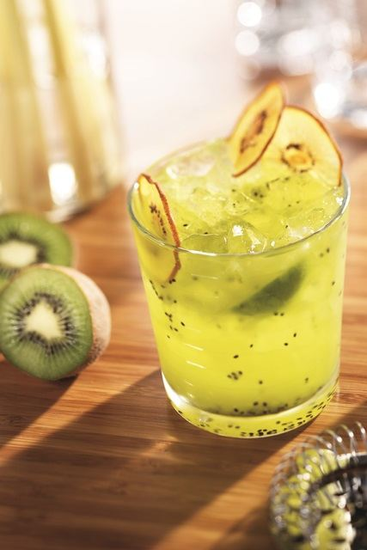 Ingredients

Candied Zespri™ Kiwifruit Chips (optional, for garnish):
6 Zespri™ Green or Zespri™ SunGold Kiwifruit
1 cup (237 ml) water
1 cup (237 ml) sugar

Lemongrass Infused Gin:
1 bottle (750 ml) Gin
2 stalks fresh lemongrass

Zespri™ Kiwifruit Debauchery Cocktail:
1 Zespri™ Green or Zespri™ SunGold Kiwifruit
1 lime, quartered
1 tsp (5 ml) sugar
2 oz (56.8 ml) lemongrass infused gin
2 oz (56.8 ml) passion fruit nectar


METHOD
Lemongrass Infused Gin
Cut lemongrass in half lengthwise exposing inner leaves.
Drop into the bottle of gin and infuse for 72-96 hours, tasting as you go. The gin should be flavored but not bitter from the infusion.

Candied Zespri™ Kiwifruit Chips (optional, for garnish)
Combine water and sugar in a small saucepan and simmer until dissolved; set aside to cool in a shallow bowl.
Slice Zespri™ kiwifruit, skin on, thinly and soak in the sugared water, refrigerated, for 6-8 hours.
Lay Zespri™ kiwifruit slices on parchment lined baking tray and bake at 220°F (104°C) for 1 hour until crispy but not brown.
Remove and store in a cool, dry place.

Zespri Kiwifruit Debauchery Cocktail
Cut Zespri kiwifruit in half and scoop contents with a spoon into cocktail shaker.
Add three lime wedges and the sugar.
Muddle until juices are mixed and released from fruit.
Add the gin, and passion fruit nectar.
Shake all ingredients with ice and strain into ice-filled rocks glass.
Garnish with candied Zespri kiwifruit chips and lime wedge.
- Recipe courtesy of Chef Mark Brand of Chambar Restaurant