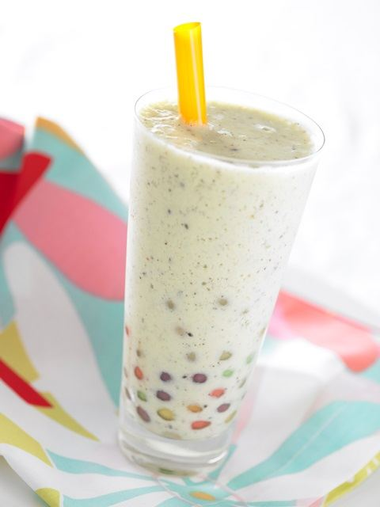 INGREDIENTS

3 Zespri™ Green Kiwifruit, peeled and sliced
1/2 cup large tapioca pearls
1 cup ice cubes
1/2 cup 2% milk
1/4 cup low-fat sweetened condensed milk

METHOD
Place 4 cups water in medium saucepan over high heat; bring to boil. Add tapioca pearls, boil 3 minutes until soft; drain. Divide pearls evenly between two, 12-ounce glasses.
Combine ice, milk, and sweetened condensed milk into blender; pulse until smooth. Add Zespri kiwifruit; pulse until just blended, do not crush Zespri kiwifruit seeds.
Pour Zespri kiwifruit mixture over tapioca pearls; serve immediately.