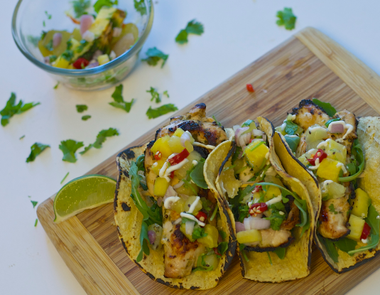 INGREDIENTS

4  Zespri™ Sungold™ Kiwifruits
1 pound chicken breast tenders
¼ cup pineapple, diced
1 lime, juiced
2 cloves garlic, crushed
¼ red onion, diced
½ bunch cilantro, chopped
¼ cup arugula, rough chop
2 habanero peppers, diced
6 corn tortillas
2 tsp salt
¼ tsp pepper
1 tsp ground cumin
2 tbsp olive oil
2 tbsp greek yogurt

METHOD
Scoop out inside of 1 Zespri™ kiwifruit and add to food processor.
Add lime juice, garlic cloves, ¼ cup cilantro, ½ habanero pepper, 1 tsp salt, pepper, cumin and olive oil to food processor and combine
Pour marinade over chicken and let sit for 20 minutes
Meanwhile, combine remaining 2 Zespri™ kiwifruit (chopped), red onion, remaining cilantro, remaining habanero peppers and pineapple to small bowl. Season with salt as needed. Set aside.
Grill chicken for about 5 minutes each side, until cooked thru
Broil tortillas over an open flame for about 1 minute
Layer tortilla with arugula, grilled chicken, top with Zespri™ kiwifruit salsa, and drizzle greek yogurt over each taco.