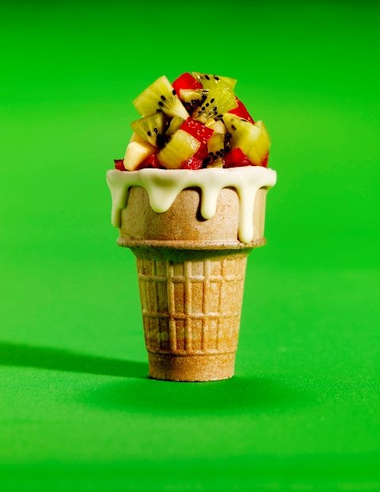 INGREDIENTS

3 Zespri™ Green Kiwifruit, peeled, finely diced
1/2 cup white chocolate morsels
6 ice cream cones, cake style
1/2 cup strawberries, finely diced
1/2 cup bananas, sliced and diced

METHOD
Microwave chocolate in small microwave-safe bowl for one minute, stirring every 30 seconds, until just melted. Stir until smooth.
Dip rim of each ice cream cone into melted chocolate. Spread interior of ice cream cones with remaining melted chocolate. Set in cool area for at 10 minutes, until firm.
Mix Zespri™ kiwifruit, strawberries and bananas in medium bowl. Mound fruit mixture into ice cream cones. Serve immediately.
Note: Ice cream cones may be made in advance.