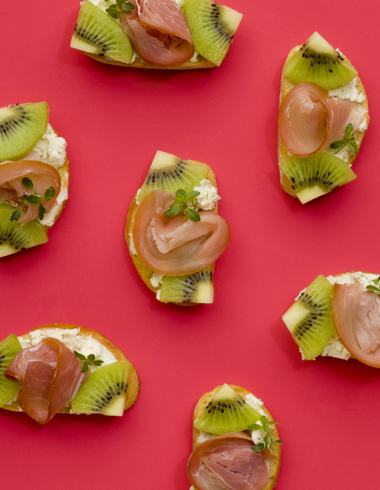 INGREDIENTS

2 Zespri™ Organic Green Kiwifruit
16 slices toasted crostini
1 package (4 ounces) garlic and herb goat cheese
3 oz thinly sliced prosciutto (8 slices), cut in half

METHOD
Spread crostini slices with goat cheese.
Peel and slice each Zespri kiwifruit lengthwise into 8 slices. Wrap a slice of prosciutto around each Zespri kiwifruit.
Top crostini with prosciutto-wrapped Zespri kiwifruit. Serve immediately or cover and refrigerate up to 30 minutes.

To make crostini, heat broiler.
Slice 8-ounce baguette into 1/4-inch slices.
Using about 1 1/2 tablespoons olive oil, lightly brush each slice.
Broil 4 to 6 inches from heat 1 to 2 minutes per side. Cool on wire rack.(May be made up to 2 days before serving. Store in airtight container.)




Recipe tip: A serrated peeler works best for peeling Zespri kiwifruit.