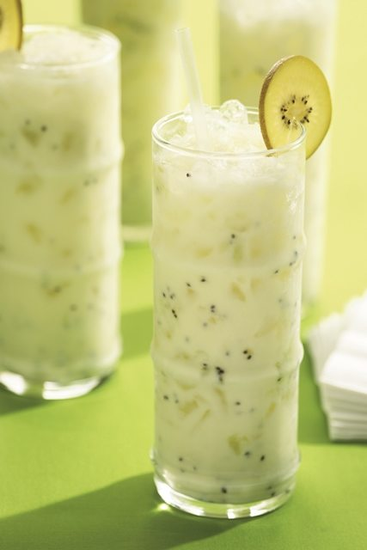 INGREDIENTS

1/2 Zespri™ Green Kiwifruit
1/2 tsp (2.5 ml) superfine sugar
2 oz (56.8 ml) Cachaça 51 Brazilian sugar cane brandy
1 oz (28.4 ml) sweetened condensed milk

METHOD
- Recipe courtesy of Dushan Zaric and Jason Kosmas of Employees Only

Batida is a style of drink in Brazil that incorporates fresh fruit, Cachaça (Brazilian sugarcane brandy) and condensed milk.
Slice Zespri kiwifruit in half and use a spoon to scoop chunks from one half into a cocktail shaker.
Add the sugar and muddle to combine.
Add Cachaça and sweetened condensed milk.
Shake all ingredients with ice and pour, unstrained, into a tall Collins glass.
Garnish with a Zespri kiwifruit slice.