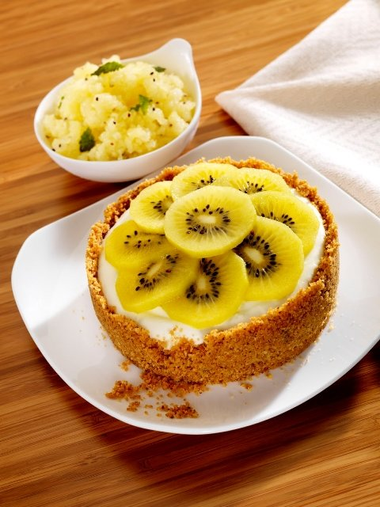 INGREDIENTS

Shaved Zespri Kiwifruit Ice:
6 Zespri™ SunGold Kiwifruit, peeled, diced
1/2 cup Sugar
1/4 cup Water
1/3 cup Lime juice

Crust:
1 1/2 cups Graham cracker crumbs
3/4 cup Hazelnuts, toasted, skin removed, ground
6 tbsp Brown sugar, packed
1/4 tsp Salt
1/8 tsp Ginger, ground
1 1/2 teaspoons Lime zest
6 tbsp Butter, melted

Cheese Filling:
5 Zespri™ SunGold Kiwifruit, peeled, cut into 1/4-inch slices
8 ounces Cream cheese, softened
4 ounces (1/2 cup) Goat cheese, soft
1/2 cup Sugar
1 1/2 teaspoons Lime zest
1 tsp Vanilla
1/8 tsp Salt
1/2 cup Heavy whipping cream
8 ounces (1 cup) Crème fraiche

METHOD
- Recipe courtesy of Chef Pichet

Shaved Zespri Kiwifruit Ice:

Place sugar and water in small saucepan over medium heat until sugar has dissolved.
Pour sugar mixture in blender.
Add Zespri kiwifruit and lime juice. Blend 30 seconds until smooth.
Pour into 8 x 8 x 2-inch mental pan and freeze until firm. Zespri Kiwifruit ice can be made in advance. One hour before serving scrape ice with fork and refreeze until ready to serve.

Preheat oven 325°F. Mix all ingredients together in large bowl.
Press graham cracker mixture into bottom and sides of six 4-inch or one 9-inch spring form pan.
Bake for 10 to 12 minutes. Cool completely.

Beat cream cheese, goat cheese, sugar, lime zest, vanilla and salt in large mixer bowl until smooth.
Beat whipping cream until soft peaks form. Fold into mixture.
Fill each tart pan with 1/2 cup mixture.
Refrigerate for 40 minutes or until filling has set.
Arrange Zespri kiwifruit in circles on top of filling, overlapping slightly.