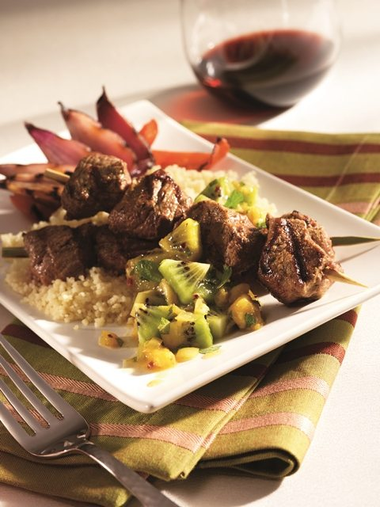 INGREDIENTS

Kiwifruit Chutney:
5 Zespri™ Green Kiwifruit, peeled, diced, divided
1 tbsp olive oil
1 tsp garlic, minced
1 tbsp fresh ginger, chopped
1/3 cup onion, chopped
1/2 tsp curry powder
1/4 tsp red pepper flakes, dried
1 banana, peeled, diced
2 tbsp each orange juice, lime juice, malt vinegar
2 tbsp brown sugar, packed
1 tbsp each fresh cilantro, fresh mint, chopped

Lamb Kabobs:
2 lbs lamb leg, boneless, cut in 1-inch, cubes
2 tbsp olive oil, divided
1 tsp curry powder
1 tsp salt
1/4 tsp black pepper, ground

METHOD
Heat oil in medium frying pan over medium heat. Saute garlic and ginger until golden in color. Add onion, curry powder and red pepper flakes; cook for 1 minute.
Add 3 Zespri™ kiwifruit, banana, orange juice, lime juice, vinegar and brown sugar and bring to boil. Reduce heat and simmer for 5 minutes. Add remaining Zespri™ kiwifruit, cilantro and mint to mixture; stir until blended. Set aside.
Preheat grill to medium high and brush with 1 tbsp oil.
Place lamb in large bowl and drizzle with remaining oil. Mix curry powder, salt and pepper with lamb and toss until coated. Arrange lamb on 8 skewers.
Grill lamb for 4 minutes on each side or until desired doneness. Serve with Zespri™ Kiwifruit Chutney.