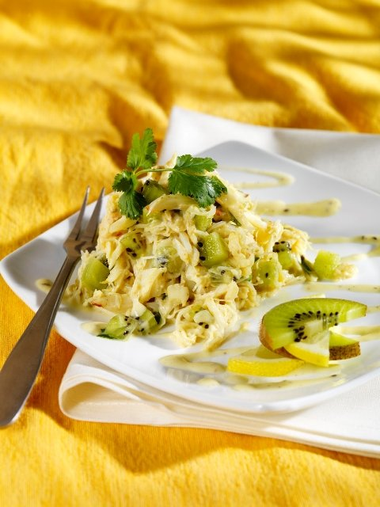 INGREDIENTS

Kiwifruit-Citrus Vinaigrette
1 Zespri™ Green Kiwifruit, peeled, diced
3 tbsp vegetable oil
3 tbsp fresh orange juice
2 tbsp fresh lemon juice

Curry Dressing
1/4 cup mayonnaise
1 tbsp fresh lime juice
1 tsp curry powder
1 tsp shallots, minced
1/4 tsp garlic, minced

Crab Salad
1 Zespri™ Green Kiwifruit, peeled, diced
10 oz (about 2 cups) fresh crabmeat, cooked, cleaned, drained
1 tsp cilantro, chopped

METHOD
Curry Dressing
Combine all ingredients in small bowl; set aside.
Kiwifruit-Citrus Vinaigrette
Puree all ingredients in small food processor or blender until smooth. Do not crush kiwifruit seeds; set aside.
Crab Salad
Combine all ingredients and curry dressing in medium bowl; toss lightly.Divide salad onto 4 plates. Drizzle Kiwifruit-Citrus Vinaigrette around edge of plates. Serve immediately.
- Recipe courtesy of Chef Shawn McClain