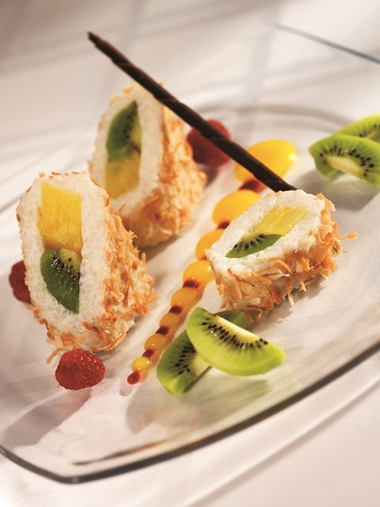 INGREDIENTS

2 Zespri™ Green Kiwifruit, peeled, quartered
1 can (12 oz) coconut milk
1/2 cup water
1/2 cup jasmine rice
1/3 cup sugar
1 vanilla bean, halved, seeded
4 pineapple strips (4x1/2x1/2-inch)
1-1/2 cups sweetened coconut, flaked, toasted*

METHOD
Blend coconut milk, water, rice, sugar, vanilla bean and vanilla bean seeds in medium saucepan. Bring to boil over medium high heat. Reduce heat and simmer for 25 to 30 minutes, stirring frequently, until rice is tender and liquid is absorbed. Remove vanilla bean and drain off excess oil. Refrigerate until chilled.
Place 20x10-inch piece plastic wrap on counter top. Place rice on plastic wrap and spread into 14x6-inch rectangle. Place Zespri™ kiwifruit quarters down center of rice. Repeat with pineapple strips, making sure fruits are touching.
Using plastic wrap, start at long end of rice and roll into 14-inch cylinder. Press two ends together tightly, completely surrounding fruit. Wrap tightly and refrigerate 2 hours or until chilled.
Remove plastic wrap and roll frushi in toasted coconut, pressing to coat. Trim frushi ends, slice and serve. **
*Preheat oven 350°F. Spread coconut on baking pan. Bake 5 to10 minutes, tossing occasionally, until toasted.
Plating Directions
Cut sushi into 4 equal pieces. Cut one, 1/2-inch round slice from each piece. Cut remaining larger piece in half, on an angle, creating wedge shaped slices.
Garnish with 4 dessert plates with fresh fruit, mango and raspberry purees, and chocolate as desired.
Place 1 round slice and 2 wedge shaped slices each plate.