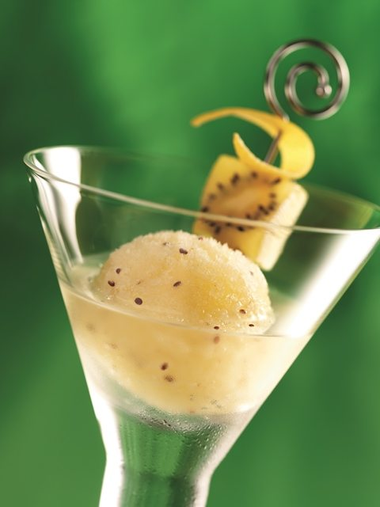 INGREDIENTS

Zespri™ SunGold™ Kiwifruit Lemon Sorbet
4 Zespri™ SunGold™ Kiwifruit, peeled, chopped
1 can (12 oz) lemonade concentrate, thawed
2 cups water

Zespri Kiwifruit Drop
2 tbsp Zespri SunGold Kiwifruit Lemon Sorbet
1-1/2 oz vanilla vodka, chilled

METHOD
Zespri SunGold Kiwifruit Lemon Sorbet
Purée Zespri kiwifruit in food processor until just blended. Do not crush kiwifruit seeds.
Stir Zespri kiwifruit puree into lemonade concentrate and water in medium bowl until blended. Cover and freeze for 8 hours or overnight.
Scrape granite into flakes with spoon.
Zespri Kiwifruit Drop
Scoop Zespri Kiwifruit Lemon Sorbet into chilled martini glass. Add vodka and serve immediately.
* Recipe provided below Prep time: 2 minutes Makes: 1 cocktail