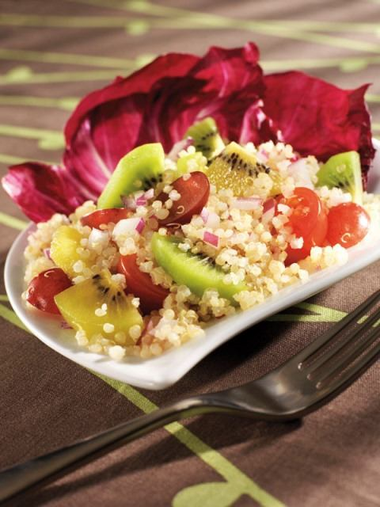 INGREDIENTS

2 Zespri™ Green Kiwifruit, peeled, quartered, sliced
2 Zespri™ SunGold Kiwifruit, peeled, quartered, sliced
1/2 cup quinoa
1 cup red grapes, cut in half
1 cup cherry tomatoes
1/4 cup red onion, diced
2 tbsp olive oil
2 tbsp red wine vinegar
1 tbsp sugar
1/4 tsp salt
1/8 tsp black pepper, ground
METHOD
Rinse quinoa under running water for 1 minute. Place quinoa and 1 cup water in medium saucepan. Bring to boil over high heat. Cover and reduce heat to low. Simmer for 15 to 20 minutes or until all water is absorbed. Fluff with fork. Cool completely.
Place quinoa in large bowl. Add Zespri kiwifruit, grapes, tomatoes and red onion; set aside.
Whisk oil, vinegar, sugar, salt and pepper in small bowl. Pour over quinoa mixture; toss lightly until blended. Serve immediately.