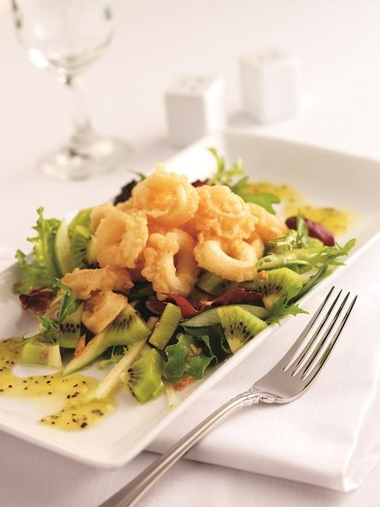 INGREDIENTS

2 Zespri™ SunGold Kiwifruit, peeled, diced
6 cups mixed wild greens
2 Zespri™ Green Kiwifruit, peeled, quartered, sliced
1 green apple, cored, julienned
miso vinaigrette dressing*
calamari tempura*

Miso Vinaigrette Dressing:
2 tbsp rice wine vinegar
1 tbsp soy sauce
1 tsp white miso paste
1 tsp fresh ginger, chopped
1/2 tsp sugar
pinch cayenne pepper, ground
2 tbsp vegetable oil

Calamari Tempura:
vegetable oil, for frying
1 cup tempura batter mix
3/4 cup ice water
1 lb calamari, cleaned and cut into rings

METHOD
Puree Zespri SunGold Kiwifruit in small food processor or blender. Do not crush Zespri kiwifruit seeds; set aside.
Place salad greens, Zespri Green kiwifruit and apple in large bowl. Pour Miso Vinaigrette* over greens and toss lightly.
Divide salad onto 4 plates. Drizzle Zespri SunGold Kiwifruit Puree around edge of plates and top with Calamari Tempura**. Serve immediately

*Miso Vinaigrette Dressing:

Puree all ingredients in small food processor or blender until just blended; set aside.

**Calamari Tempura:

Preheat 2 inches of oil in large frying pan to 365°F.
Mix tempura batter mix and ice water in medium bowl until blended.
Dip calamari in batter and place in hot oil.
Cook 1 to 2 minutes until golden.
Transfer to paper towels to drain.