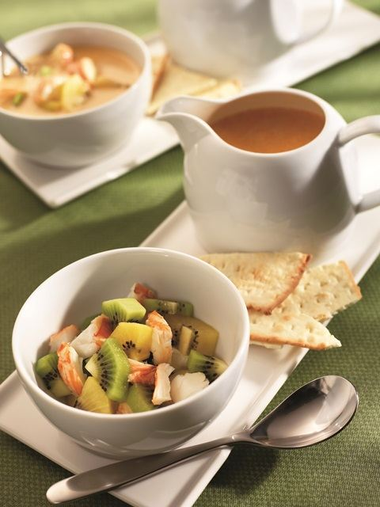 INGREDIENTS

Bisque
3 Zespri™ SunGold Kiwifruit, peeled, diced, divided
3 Zespri™ Green Kiwifruit, peeled, diced, divided
2 tbsp butter
1/2 cup each fennel bulb, onion and carrot, diced
1/4 cup celery, diced
1/4 cup tomato paste
1/2 tsp black peppercorns
1 whole bay leaf, dried
1/2 cup each dry sherry and brandy
3 cups heavy cream
1 cup lobster cooking liquid
1 to 2 tbsp fresh tarragon, chopped

Lobster Tails
3 quarts water
2 lbs lobster tails


METHOD
Melt butter in large saucepan over medium heat. Add fennel, onion, carrot, celery and tomato paste and sauté until vegetables are caramelized. Add peppercorns, bay leaf, sherry and brandy. Increase heat and sauté until liquid is reduced by half.
Add lobster shells, cream and cooking liquid and return to boil. Reduce heat and simmer, stirring occasionally, for 45 minutes or until thickened. Remove lobster shells.
Stir in tarragon and 1 each Green and Zespri SunGold kiwifruit into bisque. Strain bisque, pressing hard, to extract solids.
Divide remaining Zespri kiwifruit, lobster meat and bisque into 6 bowls. Serve immediately.