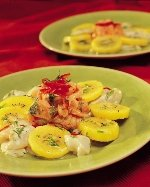 INGREDIENTS

4 Zespri™ SunGold Kiwifruit, peeled and sliced (6 slices)
1-lb (500g) fresh, raw salmon, sliced
4 sea scallops, sliced into 1/4-inch slices (3 per scallop) or use 12 bay scallops (whole)
1 sweet red bell pepper

For Vinaigrette
1/2 cup olive oil
1/2 cup peanut oil
juice from 3 lemons
juice from 3 limes
1 tbsp dijon mustard
2 tsp sliced shallots
1 tsp chopped fresh parsley
1 tsp dill
1/2 tsp sliced (not crushed) garlic
salt and pepper, to taste

METHOD
Slice the Zespri™ SunGold Kiwifruit, the fresh salmon and the scallops. Set aside. Julienne the red pepper and set aside.
Combine the first five vinaigrette ingredients in a small bowl. Add the shallots, parsley, dill, garlic, red pepper, salt and pepper to taste. Let stand for a few minutes, so the flavors can combine.
Pour half the vinaigrette into a deep platter. Place the Zespri™ SunGold Kiwifruit on top of the vinaigrette. Place the salmon on top of the Zespri™ SunGold Kiwifruit, and the scallops on top of the salmon. Pour the rest of the vinaigrette over the scallops.
Cover with foil and refrigerate the dish for at least one hour before serving.
To serve, place the salmon in the center of each serving dish. Surround the salmon with the sliced Zespri™ SunGold Kiwifruit and the scallops. Garnish the salmon with the red peppers. Pour some marinade on top of each dish. Serve immediately.