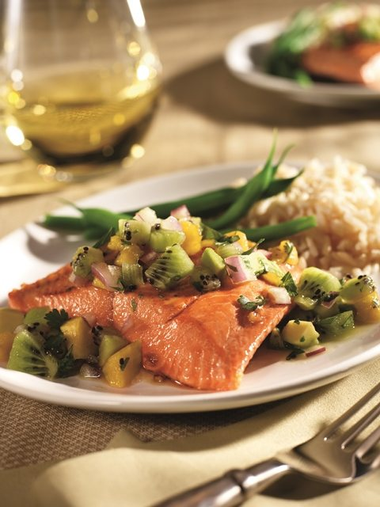 INGREDIENTS

Kiwifruit Salsa:

4 Zespri™ Green Kiwifruit, peeled, diced
1 cup avocado, peeled, pitted, diced
1 cup papaya, peeled, seeded, diced
1/4 cup red onion, diced
1/4 cup cilantro, diced
2 tbsp lime juice
1/8 tsp salt

Salmon:

2 tsp lite soy sauce
1 tsp honey
1/2 tsp garlic, minced
1/4 tsp ginger, ground
6 (4 oz each) salmon fillets
1 tbsp olive oil

METHOD
Place all Zespri™ kiwifruit salsa ingredients in medium bowl and toss lightly; set aside.
Preheat oven to 350°F.
Whisk soy sauce, honey, garlic and ginger in small bowl. Brush salmon fillets with soy sauce mixture.
Preheat oil in large ovenproof frying pan over medium heat. Add salmon, flesh side down and cook 1 to 2 minutes until browned. Flip salmon and place frying pan in oven.
Bake 8 to 10 minutes or until salmon flakes easily with fork. Serve with Zespri™ kiwifruit salsa.