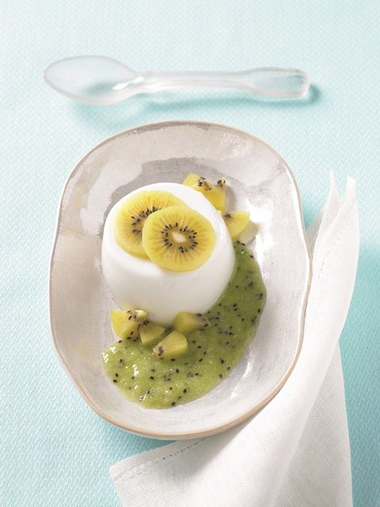 INGREDIENTS
1 envelope unflavored gelatin
1/4 cup boiling water
1/2 cup heavy whipping cream
1/2 cup sugar
2 cups low-fat buttermilk
METHOD
Sprinkle gelatin over water in medium bowl; stir.
Let stand for 10 minutes until softened.
Microwave the cream and sugar in small microwave-safe bowl for two (2) minutes, stirring once, until simmering.
Add the cream and sugar to the gelatin mixture; stir.
Add buttermilk and stir until combined.
Pour into 6-oz custard cups — six (6) total.
Cover and refrigerate for four (4) hours or overnight until firm.
Place each custard cup in 1-inch hot water for 30 to 45 seconds.
Immediately (and carefully) invert onto the center of a small plate and repeat for the other cups. You might need to run a thin knife around edge of each custard cup. Be careful not to break the panna cotta!
Spoon Zespri™ Green Kiwifruit coulis around panna cotta, garnish with Zespri™ SunGold™ Kiwifruit.
Serve and enjoy!