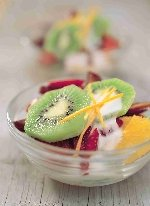 INGREDIENTS

4 Zespri™ Green Kiwifruit
1 large orange
8 strawberries
4 large, fresh dates
1/2 cup (125 ml) vanilla yogurt

METHOD
Slice three of the Zespri kiwifruit into halves and spoon out bite sized chunks into a bowl. Peel and slice the remaining Zespri kiwifruit into rounds for the garnish.
Peel the orange and zest the rind. Remove any pith from the orange segments and thinly slice.
Thickly slice the strawberries.
Pit the dates and quarter lengthwise.
Layer the fruit into four small glass serving dishes or martini glasses in the following order — orange, Zespri kiwifruit, strawberries and dates.
Top with a little yogurt and the Zespri kiwifruit garnish and serve.