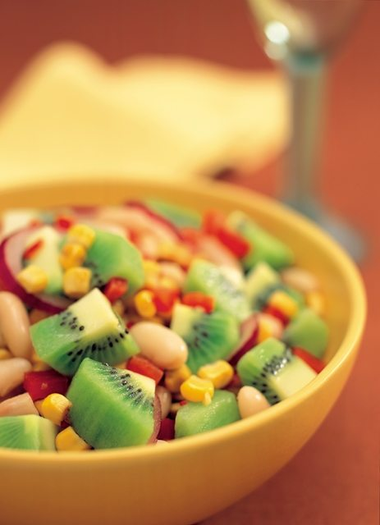 INGREDIENTS

3-4 Zespri™ Green Kiwifruit
1 tbsp vegetable oil
1 small red onion, sliced
1-1/2 cups (250 g) whole kernel corn, fresh or frozen
1 sweet red bell pepper seeded and diced
1 fresh chili pepper, seeded and diced
2 tbsp (30 ml) lemon juice
1/4 tsp seasoned salt
1 cup (180 g) cooked and drained cannellini or pinto beans

METHOD
    
Heat the oil in a large, non-stick frying pan over medium-high heat. Add the corn and cook, stirring occasionally, for 8 minutes, until browned. Place corn in a large bowl.
    
Rinse the onion in icy water to remove any pungent flavors.
    
Slice kiwis into halves and spoon fruit out into 2 cm chunks.
    
Gently combine all the ingredients and serve.