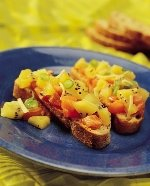 INGREDIENTS

2 Zespri™ SunGold Kiwifruit
1/2 tsp finely julliened fresh ginger root
3 spring onions (green/scallions), finely sliced
juice from 1/2 lemon
salt, to taste
7 oz (200g) fresh salmon filet, cut into 1/4-inch strips and diced
1 tbsp extra virgin olive oil
8 thin slices of bread - baguette is good

METHOD
Pre-heat the oven to 325°F (160°C). Brush the bread with olive oil and bake on a tray until golden and crisp, about 12-15 minutes. Cool completely before using.
Slice the Zespri kiwifruit into halves and spoon fruit chunks out onto a cutting board. Dice kiwifruit.
Mix the Zespri kiwifruit, ginger, pieces from two of the spring onions, the lemon juice and two pinches of salt together. Let stand for 20 minutes.
Combine the salmon, half the olive oil and the remaining spring onion.Let stand for 20 minutes.
To assemble, place a spoonful of the salmon on each crouton; then, spoon some of the salsa on top. Garnish with remaining spring onion.

These need to be assembled just before you eat them so as to savor the freshness and subtlety of the Zespri™ SunGold Kiwifruit.