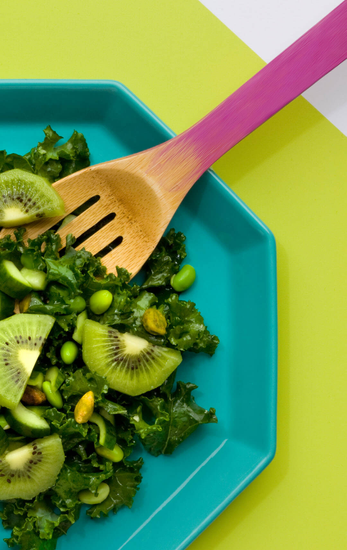 INGREDIENTS

2 Zespri™ Organic Green kiwifruit, peeled and chopped
1 cucumber
2 tablespoons fresh lime juice
2 tablespoons extra virgin olive oil
1 clove garlic
½ teaspoon honey
¼ teaspoon salt
¼ teaspoon pepper
4 cups chopped kale or mixed greens
¾ cup shelled edamame
⅓ cup salted and shelled pistachios


METHOD
Cut cucumber (medium-sized, about 8") in half lengthwise and seed. Place cucumber seeds in bowl of food processor or blender container.
Add lime juice, olive oil, garlic, honey, salt and pepper. Process until well blended.
In large bowl, massage half the dressing into kale with hands until leaves are coated and kale has turned a bit darker in color. (If using mixed greens, omit this step.)
Slice seeded cucumber; toss cucumber, Zespri kiwifruit, edamame and pistachios with kale and remaining dressing. Serve immediately.
PRO TIP
A serrated peeler works best for peeling kiwifruit.