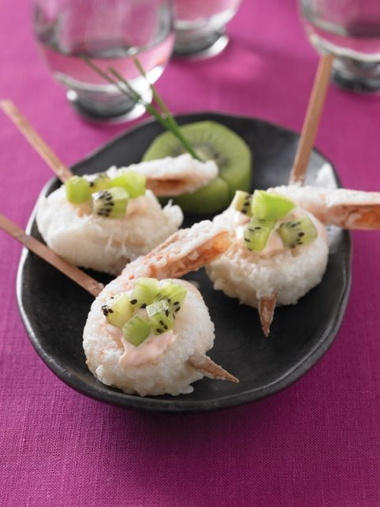 INGREDIENTS

4 to 6 Zespri™ Green or SunGold Kiwifruit, finely diced
1 cup Mayonnaise
3 teaspoons Sambal (garlic chili paste)
1 Lime, juiced
Salt and Pepper, to taste
3 dozen large shrimp, peeled, deveined
2 cups tempura flour, divided
1 cup Corn starch
1 1/2 cups ice water
Vegetable oil, for frying
METHOD
- Recipe courtesy of Chef Dante Boccuzzi of Dante Restaurant, Cleveland, Ohio

Combine mayonnaise, sambal, lime juice and salt and pepper in medium bowl; set aside.
Split shrimp tails; roll to form pinwheel or wrap to form tight ball. Secure each with bamboo skewer to form lollipop. Roll skewered shrimp in 1 cup tempura flour to cover completely; shake off excess. Blend remaining 1 cup tempura flour, cornstarch and ice water until slightly lumpy. Dip skewered shrimp into batter; shake off excess.
Pour 4-inches vegetable oil in large heavy sauce pan; heat to 350˚F.
Deep fry shrimp for 1 to 2 minutes until crisp and golden.
To serve, top each shrimp lollipop with about 1 teaspoon of sambal mayonnaise and diced kiwifruit confetti.