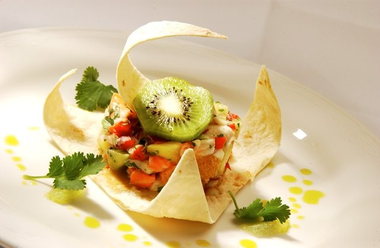 INGREDIENTS

2 Zespri™ Green Kiwifruit, diced
2 Zespri™ SunGold Kiwifruit, diced
1/2 lb (200g) prawn mean, raw, diced
1/2 lb (200g) salmon, raw, diced
1/2 lb (200g) scallops, raw, diced
1 red onion, diced
1 sweet bell pepper (red, yellow or orange), diced
2 tomatoes, seeded and diced
1 chile pepper, crushed
2 cups fresh lime juice
1 bunch chopped fresh cilantro
2 tbsp sugar
salt and pepper (to taste)
2 limes, segmented
1 orange, segmented
tortilla chips (to serve)

METHOD
- Recipe courtesy of Chef Stephen Barry

Poach the diced prawn meat for two minutes; then, drain and cool.
In a large non-reactive bowl, combine the prawn meat, salmon, scallops, white fish, red onion, capsicum, tomatoes, chili and lime juice.
Marinate seafood mixture in the refrigerator for 2½ to 3 hours.
Just before serving, drain off the excess lime juice and add cilantro, sugar, salt and pepper to taste.
Carefully add the green and gold Zespri kiwifruit, oranges and lime segments.
Serve on crisp tortilla shells.