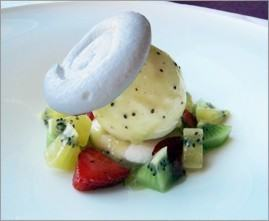 INGREDIENTS

Cookies:
½ Cup Egg Whites
Pinch of Salt
1 Cup Superfine Sugar, divided
2 Tablespoons Cornstarch
1 tsp Vanilla Extract
1 tsp Champagne (or white) Vinegar

Zespri™ Kiwifruit Sauce & Topping:
1 Zespri™ Green Kiwifruit, peeled and diced
1 Zespri™ SunGold Kiwifruit, peeled and diced
1 tsp sugar

METHOD
Cookies:
Beat egg whites and salt together with whisk attachment until stiff but not dry. While mixing, add half of the sugar slowly. Whip until stiff and shiny.
Sift remaining sugar and cornstarch together. Fold into the whites as carefully as possible.
Fold in vanilla and vinegar last.
Spoon or pipe meringue onto a parchment lined sheet pan. The cookies can be made as large or as small as you want.
If using a gas oven, turn fan on without heat. The pilot light should provide sufficient heat.
If using an electric oven, set oven as low as possible, warm setting is good. Leave meringues overnight. Or check after a couple of hours.

Zespri™ Kiwifruit Sauce & Topping:

Purée ½ Zespri™ Green Kiwifruit, ½ SunGold Kiwifruit and 1 tsp sugar in blender or small food processor until smooth; do not crush kiwifruit seeds
Serve meringues with ice cream, other half of diced Zespri™ kiwifruit, strawberries, whipped cream if desired and Zespri™ kiwifruit sauce.