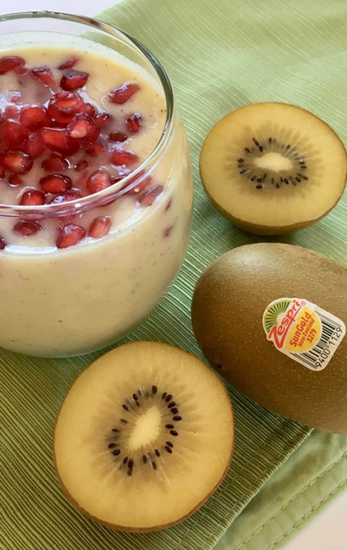 INGREDIENTS

1 cup Zespri™ SunGold™ kiwifruit, peeled and chopped
2¾ cups low-fat milk, divided
2 eggs + 1 egg yolk
¼ cup sugar
½ teaspoon arrowroot powder (or cornstarch, potato starch, or tapioca starch)
Pomegranate seeds or cinnamon, for garnish (optional)

METHOD
Combine 2 cups of the milk and zespri kiwifruit in a blender until smooth. Pour into a saucepan and bring to a simmer over medium heat.
In a small bowl, whisk together eggs, egg yolk, sugar, and arrowroot (or any other one listed). Slowly pour the heated zespri kiwifruit milk into the bowl with the eggs and whisk constantly, then add the combined mixture back into the saucepan.
Keep on medium heat and continue stirring the mixture for 6-7 minutes, until it's thickened.
Remove from heat, stir in remaining ¾ cup milk, and let cool for 15 minutes.
Place in the refrigerator to chill. To serve, sprinkle pomegranate seeds or cinnamon on top of each glass if desired. For extra fancy flair serve with a cinnamon stick in each glass.
Recipe contributed by Melissa Halas-Liang of SuperKids Nutrition