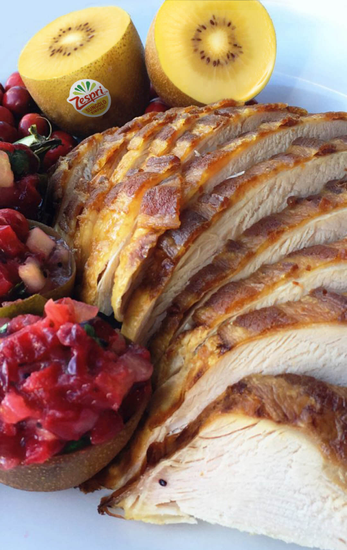 INGREDIENTS

1 cup diced Zespri™ SunGold™ kiwifruit (about 4 kiwifruit)
1 cup granulated sugar
2 cups water
zest of 1 orange
1 pc ginger thinly sliced
12 oz fresh cranberry
½ of a fresh jalapeño minced
1 tablespoon minced cilantro

METHOD
Combine the sugar, water, orange zest and ginger in a small saucepan and bring to a boil. Reduce the heat to simmer and cook 2 minutes.
Add the cranberries to the simmering liquid and cook until they all burst, but have not completely broken down, 4-5 minutes.
Strain the liquid and reserve for another use (like cocktails!). Discard the ginger and orange.
Transfer the cranberries to a bowl and cool to room temperature. Fold in the diced kiwi, jalapeño and cilantro. Season to taste with salt and pepper. Serve with any grilled or roasted meat.
Recipe contributed by Chef James Briscione.