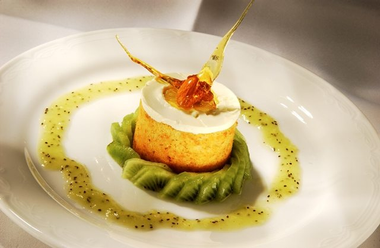 INGREDIENTS

3 Zespri™ SunGold Kiwifruit, peeled and diced
Fresh Zespri™ SunGold Kiwifruit slices (for garnish)
7 oz (200ml) water
1.8 oz (50g) dry polenta
7.2 oz (200g) white chocolate, chopped
5 eggs, separated
3/4 cup sugar
1/4 cup flour
1 cup ground almonds
Mascarpone or crème fresh (for topping)

METHOD
Recipe courtesy of Chef Stephen Barry
Preheat oven to 375°F (190°C).
Grease a deep 9-inch (22cm) round cake tin, or 8 individual ring moulds, and line the base with baking paper.
Bring the water to a boil, add the polenta, and stir until thickened. Then, cover and cook on low heat for another 5 minutes. Remove from heat.
Add the white chocolate, and stir until melted.
In a large bowl, whisk the egg yolks with the sugar until thick and pale yellow.
Beat in the polenta mixture, flour, ground almonds and diced Zespri™ kiwifruit.
In another bowl, whip the egg whites until stiff. Fold 1/3 of the whites into the cake mixture, then fold in the rest.
Pour the cake into the prepared moulds, and bake for 30 minutes for individual rings, or until well-risen and firm. The 9-inch (22cm) cake should take 45-55 minutes.
Let the finished cake stand for a few minutes before turning out onto a wire rack to cool
Top with fresh mascarpone or crème fresh and fresh gold Zespri™ kiwifruit slices.