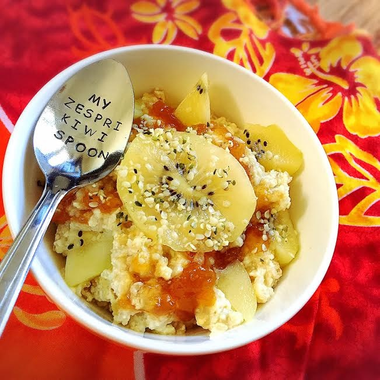 INGREDIENTS

1-2 golden Zespri™ kiwifruit, sliced/diced
1/2 cup quick-cook/minute oats
1 cup unsweetened vanilla soy milk
2 eggs
~1 tbsp Summer Sunshine jam
1 sprinkle of hemp seeds (optional)

METHOD
Add oats and milk to a small pot and let cook on medium-low heat.
Once it comes to a simmer, reduce the heat and crack an egg into the pot. Let cook, stirring frequently, until it reaches your desired level of consistency. (Add more liquid if desired.)
Pour into a bowl, then swirl in the jam and diced kiwi. Mix until combined.
Top with more Zespri™ kiwifruit, sprinkle with hemp hearts, and serve hot!