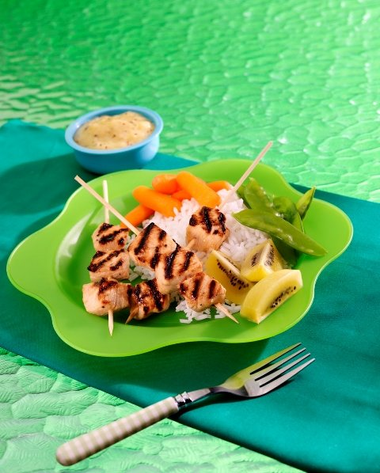 INGREDIENTS

Chicken Skewers:
    1 Zespri™ SunGold Kiwifruit, peeled, chopped
    1 lb chicken breast, skinless, boneless, cut into bite-sized pieces
    2 tbsp bottled teriyaki marinade
    16 bamboo skewers
    1 tbsp Vegetable oil


Zespri™ SunGold Kiwifruit Sweet and Sour Dipping Sauce:
    3 Zespri™ SunGold Kiwifruit, peeled, chopped
    3 tbsp Sugar
    1 tbsp White vinegar
    2 teaspoons Corn starch
    1/4 tsp Salt


METHOD
Purée Zespri kiwifruit and teriyaki marinade in food processor until smooth. Do not crush Zespri kiwifruit seeds by over-blending. Place chicken in medium bowl. Pour marinade over chicken and refrigerate for 30 minutes. Soak skewers in water for 10 minutes. While chicken is marinating prepare Dipping Sauce.
Arrange chicken on skewers. Preheat grill to medium-high and brush with oil.
Grill chicken for 5 minutes on each side until cooked through.
Dipping Sauce Method:
Purée Zespri kiwifruit in food processor until smooth; do not crush kiwifruit seeds.
Place all ingredients in small sauce pan over medium-high heat.
Bring to boil, stirring constantly, for one minute until thickened.