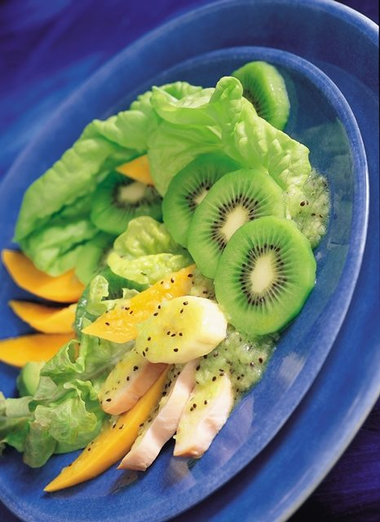 INGREDIENTS

7 oz (200g) bacon (optional)
7 oz (200g) asparagus
2 firm bananas
1 tbsp lemon juice
1 head crisp lettuce (iceberg or buttercrunch), washed, dried and torn into bite-sized pieces
1/2 a papaya, peeled, seeds removed and sliced into wedges
1 double smoked chicken breast (about 11 oz or 300g), skinned and sliced
1 large ripe but firm avocado, halved and sliced

For Honey Dressing:
4 Zespri™ Green Kiwifruit
1 tbsp salad oil
1 tbsp lemon juice
1 tsp honey
1/4 tsp salt
freshly ground black pepper, to taste

METHOD
Cook the bacon until crisp, drain, cool, and cut into bite-sized pieces.
Trim the asparagus and blanch 3 minutes in boiling water. Drain, rinse with cold water and pat dry. Cut into short lengths.
Peel the bananas, slice thinly lengthwise and put them on a plate. Squeeze lemon juice over banana pieces and toss gently.
To make the dressing, whisk the oil with the lemon juice, honey, salt and a little black pepper in a small bowl. Cut Zespri kiwifruit into halves and spoon out all but one into chunks to puree in a food processor. Peel the remaining Zespri kiwifruit and slice into rounds for garnishing. Add the pureed Zespri™ Kiwifruit to the bowl of dressing and blend together.
To assemble the salad, arrange the lettuce, asparagus, bananas, papaya, chicken breast and avocado on a platter. Garnish with sliced Zespri™ Kiwifruit, and the bacon, and sprinkle the dressing over the dish. Serve immediately.