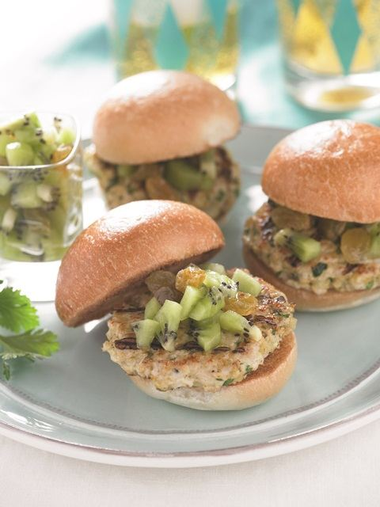 INGREDIENTS

Fresh Zespri™ Kiwifruit Chutney:
2 Zespri™ Green Kiwifruit, peeled and finely diced
1 tablespoon Golden raisins
2 teaspoons Sugar
1/8 teaspoon Salt

Curried Turkey Burgers:
1 lb Lean ground turkey
1/4 cup Finely diced onion
2 tablespoons Chopped cilantro
1 1/2 teaspoons Curry powder
1/2 teaspoon Salt
1/4 teaspoon Ground black pepper
12 Mini burger or small dinner rolls, split and toasted

METHOD
Fresh Zespri Kiwifruit Chutney:

Combine Zespri kiwifruit, raisins, sugar and salt in small bowl and mix. Make chutney just prior to serving.

Curried Turkey Burgers:

Preheat grill to medium.
Combine turkey, onions, cilantro, curry powder, salt and pepper in medium bowl. Shape into 12 2-inch mini burger patties.
Grill patties for 2 to 3 minutes on each side, turning once, until cooked through. Place on buns; top with chutney.