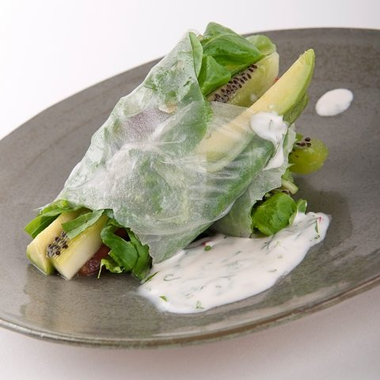 INGREDIENTS

2 Zespri™ Green Kiwifruit, julienne
8 oz rice Vermicelli noodles
4 cups shredded lettuce
1 bunch Vietnamese basil
1 bunch fresh cilantro
2 medium carrots, fine julienne
1 lb cooked, peeled shrimp, cut in half lengthwise
25 standard size rice paper wrappers

Zespri™ Kiwifruit NUOC CHAM:
2 Zespri™ SunGold Kiwifruit, pureed with a little water
2 Green and SunGold kiwifruit, quartered and cut into small tiles
3 ripe red chilies, seeded and minced
1/4 cup garlic clove, minced
1/4 cup sugar
3 limes, juiced
1/4 cup rice or cider vinegar
1/4 cup water
1/2 cup Vietnamese or Thai fish sauce

METHOD
- Recipe courtesy of Chef Jet Tila
Prepare sauce according to recipe below and reserve.
Cook the rice vermicelli in boiling water for about 2-3 minutes, or until al dente. Shock in ice water to stop the cooking process and drain well.
Peel carrots and cut into fine julienne. Combine the reserved, noodles, carrots, lettuce, and Zespri kiwifruit to make the filling.
Soak rice paper in hot water until it softens and then place it on a work surface. Place one or two tbsp vegetable filling in the center of the wrapper and top it with, basil, cilantro, and two shrimp pieces.
Press the filling down to flatten it a little. Fold in 2 sides, and then roll up the parcel. Lay seam side down on a serving plate. Serve with Nuoc Cham Sauce below.

Zespri™ Kiwifruit NUOC CHAM:

Combine all ingredients except diced Zespri kiwifruit. Adjust seasoning, and garnish with diced Zespri kiwifruit.
Cover and marinade for 1/2 to 1 hours.