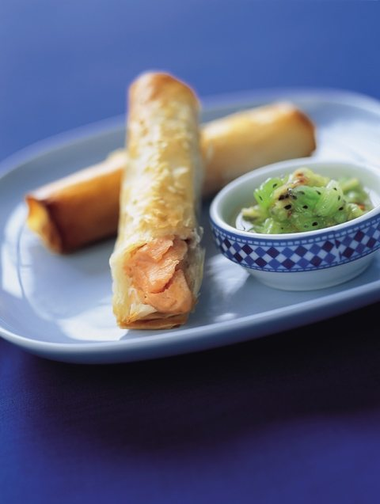 INGREDIENTS

1/4 cup olive oil or melted butter
1 lb 3 oz (600g) fresh salmon fillet
1-1/2 tsp prepared wasabi
8 sheets frozen filo pastry
1 tbsp sesame seeds

For Dipping Sauce:
4 Zespri™ Green Kiwifruit
1/2 tsp finely grated ginger root
1 tsp honey
1 tsp sweet chili sauce
1/4 tsp salt
Freshly ground black pepper, to taste

METHOD
Gently heat 1 tbsp of the olive oil in a frying pan and cook the salmon for 2-3 minutes on each side or until just cooked. Place the fillets on a chopping board and spread a little wasabi over each. Cut in finger sized strips.
Take 1 sheet of filo dough (keep the remaining sheets covered with damp absorbent paper) and brush with olive oil. Top with another sheet and cut into 3-inch strips.
Place a piece of salmon on one end of a strip of filo and roll up tucking in the edges. Brush the end with a little more oil to seal. Repeat with the remaining pastry and salmon. Sprinkle with sesame seeds.
Pre-heat the oven to 400°F (200°C). Place the rolls, joined end down, on baking trays and bake for 15 minutes or until golden.
To make the dipping sauce, slice Zespri kiwifruit into halves and spoon chunks out into a food processor. Add all remaining ingredients, and pulse until roughly blended. Pour into a bowl and serve with the hot wasabi salmon.