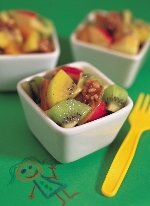 INGREDIENTS

2 Zespri™ Green Kiwifruit
1 small red-skinned apple
1 tbsp lemon juice
1 tbsp salad oil
1/2 cup dried apricots, coarsely chopped
1/2 cup walnuts or pecans, coarsely chopped

METHOD
Slice Zespri kiwifruit into halves and spoon the fruit out into a medium bowl in bite-sized chunks.
Core and dice the apple and add it to the kiwifruit with the lemon juice and the oil. Toss to coat.
Add in the apricots and nuts, toss one more time, and serve.