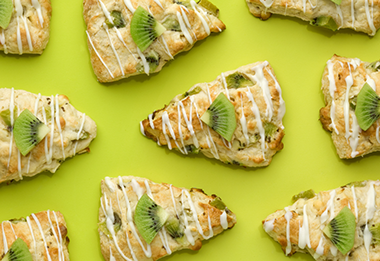 INGREDIENTS
1 1/2 cups all-purpose flour
2 tablespoons sugar
2 teaspoons baking powder
1/2 teaspoon salt
2 tablespoons butter
2 egg whites, lightly beaten
1/2 cup fat-free half-and-half
1 Zespri Organic Green Kiwifruit, peeled and chopped
6 tablespoons white chocolate chips, divided
METHOD
Heat oven to 425F. Line baking sheet with parchment or spray with nonstick spray.
In large bowl, combine flour, sugar, baking powder and salt. Cut in butter with pastry blender or two knives until mixture looks crumbly.
Stir egg whites and half-and-half into flour mixture; toss with fork to moisten ingredients. Stir in kiwifruit and 1/4 cup white chocolate chips. Stir gently just until mixture holds together.
Turn dough onto lightly floured surface. Knead 5 to 6 turns. Pat dough into 8-inch circle. With sharp knife, cut into 8 wedges. Arrange wedges, about 1 inch apart, on baking sheet. Bake 9 to 12 minutes or until bottoms and edges are golden brown.
In microwavable bowl, melt remaining 2 tablespoons white chocolate chips on high 30 seconds; stir. Microwave in 10 second intervals, stirring until melted. Drizzle over scones. Serve warm.
Recipe tip: A serrated peeler works best for peeling kiwifruit.