4 ways to celebrate the wonder of fruits and vegetables
Zespri SunGold kiwifruit

Nutrient rich

Other Benefits
These days, the supermarket shelves seem to be stocked with more options than ever before. Ready meals, sauces, dips – the choices are limitless! But whilst it's great to introduce our palates to exotic foods and flavours, it's also important to remember the simple things in life. Fruits and vegetables have been a staple of the human diet for years, and for good reason. Not only are they natural and nutritious, but they add colour and flavour to each and every dish. In this post, we'll suggest 4 new ways to celebrate our favourite of the bunch – the mighty Zespri™ SunGold™ kiwifruit!
1. Listen more
According to the Food and Agriculture Organisation of the United Nations (FAO), fruit and vegetables are 'essential for healthy lives'. They bring variety to our diets, which is not only good news for us, but for the entire planet. We love combining Zespri™ SunGold™ kiwifruit with other delicious fruits and vegetables to create unique flavour combinations. You'll never be bored when you've got a fridge full of kiwis!

2. Eat more
The World Health Organisation (WHO) recommends consuming at least 400g of fruit and vegetables every day to get the health and nutrition benefits our bodies need. However, only 14.1% of Europeans aged 15+ achieve this. Two average sized Zespri™ SunGold™ kiwifruit weigh almost 200g – which is a very good start!

3. Talk more
The word cloud below highlights some of the first words that come into mind when we think about Zespri™ SunGold™ kiwifruit. Can you think of any others? Let's use them to celebrate the wonder of fruits and vegetables!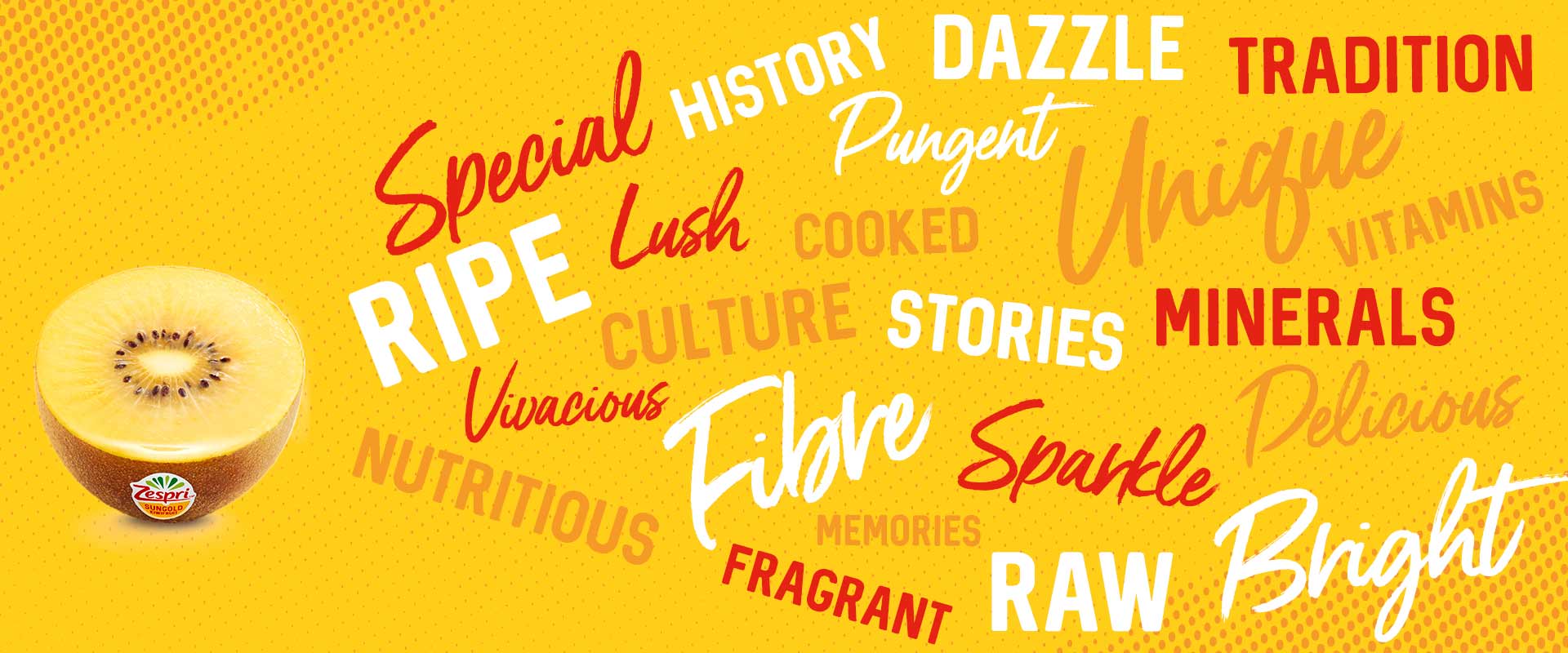 If you love fruits and vegetables, then we bet you also love smoothies. There's no better way to cram as many of your favourite ingredients into one place. It's also a chance to get creative – remember what we said about variety? Not only can you play around with taste, but you can also play around with colour. Take a look at our latest recipe here. Bright purple beets taste delicious when combined with the glorious sweetness of Zespri™ SunGold™ kiwifruit, plus you'll have a dazzling purple smoothie that demands to be celebrated.