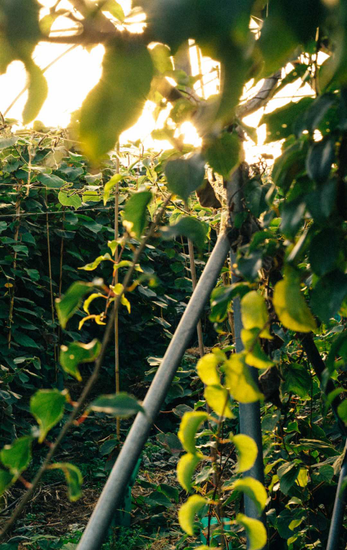 Promotional
Importing / Exporting
Health & Nutrition
Growing Zespri Kiwifruit
Fruit Quality
Employment
Communication
PROMOTIONAL
How do I submit a sponsorship request?
Zespri sponsors a number of initiatives in the areas of education and leadership, community development and sustainability. While Zespri focuses on a small number of initiatives, we're happy to consider requests for funding as long as they relate to one of our focus areas. Please note that it's highly unlikely that Zespri will sponsor individuals, sports teams, hobby or personal interest groups, religious causes or political causes. For further information contact sponsorship@zespri.com



IMPORTING/EXPORTING
Does Zespri sell kiwifruit in New Zealand?
Zespri does not sell any Class 1 kiwifruit in New Zealand and only sells a very small volume of Class 2 on the New Zealand market. Other suppliers have their own programmes, usually through a distributor, for the local market.
How can I export New Zealand kiwifruit?
Export of kiwifruit from New Zealand is governed by the Kiwifruit Export Regulations 1999. The regulations permit only Zespri or collaborative marketers approved by KNZ to export New Zealand-grown kiwifruit. The Regulations do not apply to the sale of such kiwifruit in New Zealand, or its export for consumption in Australia. If you have any queries about purchasing fruit once it has been exported into your country, please contact contactzespri@zespri.com for assistance.
I would like to purchase Zespri Kiwifruit for my fruit distribution business?
If you would like to discuss the opportunity to purchase Zespri New Zealand kiwifruit in the market you are enquiring about please email contactzespri@zespri.com and provide some background information regarding your fruit distribution business. If this information warrants further discussion we will provide the names of our local distribution agents for you to contact.
What is the value of kiwifruit compared to other New Zealand exports?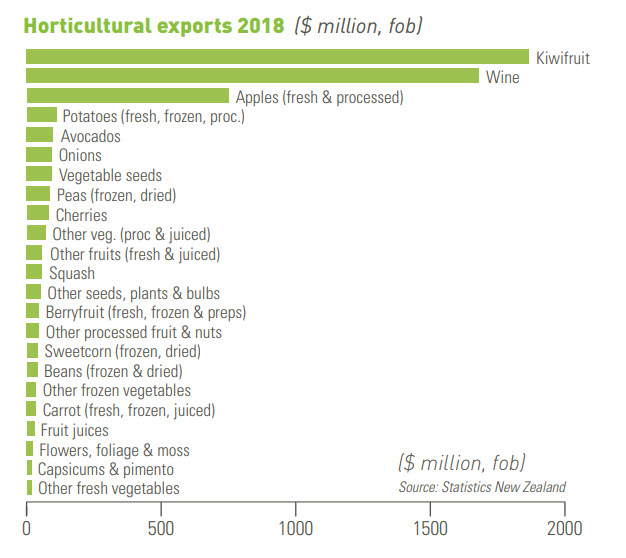 Where is Zespri Kiwifruit sold?
New Zealand-produced kiwifruit were exported to 53 countries in 2018, with $1.19b (2017: $1.09b) to Asian countries, two importing more than $300m: Japan $397m (2017: $381m) and China $458m ($365m). Kiwifruit to the value of $512m ($422m) went to countries in Continental Europe.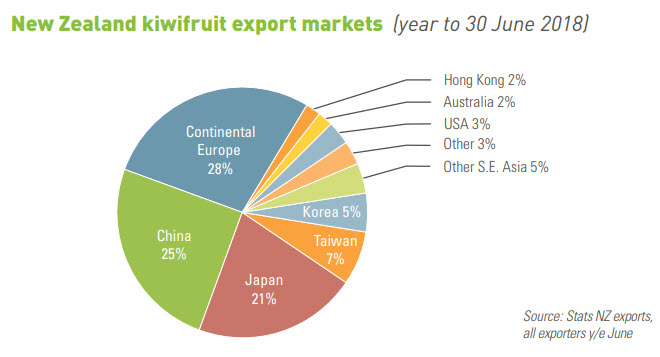 HEALTH

&

NUTRITION
Can a pregnant women eat Zespri kiwifruit?
Yes. There is no reason pregnant women cannot include kiwifruit as a part of a normal varied diet. As a fruit, kiwifruit is a good source of nutrients (including vitamin C, E and folate) and fibre. Green kiwifruit can also help with digestive comfort which can be an issue for some women during pregnancy.
Can kiwifruit cause an allergic response?
Kiwifruit are a delicious, highly-nutritious fruit and an exceptional source of natural vitamin C. They are suitable for all generations. However – for a small number of individuals – kiwifruit may trigger an allergic response. Virtually all food groups can cause an allergic reaction in some sensitised people. Globally, the incidence of food allergy is reported to be increasing, along with the incidence of kiwifruit allergy.

People with allergies to dust mites, pollen and latex are more likely to be allergic to kiwifruit. Care should be taken when first introducing kiwifruit or new varieties of kiwifruit to children, particularly those with other known food allergies.

Children should be supervised and observed carefully for any adverse reactions. People with a known kiwifruit allergy should avoid all kiwifruit.
Can kiwifruit regulate good bowel movement?
Yes! Green kiwifruit in particular are well-documented for their contribution to regulating bowel movements. We have the first self-substantiated health claim for the digestive health benefits of kiwifruit in Australia/NZ and the first health claim for a fresh whole fruit.
Can you eat kiwifruit skins?
Generally, we cut kiwifruit in half and scoop it out with a spoon. If you prefer to eat the skin, it is safe to eat. Most of the benefits such as vitamins and fibre are actually in the flesh of the fruit. If however, you were to eat the skin, then that contributes to additional fibre.
I have a mild reaction to Green but not to Gold. Why is that?
Because there are some differences in the composition of green and gold kiwifruit, this means that there are also possible differences in the way people that are sensitive to kiwifruit may react.

Occasionally, people experience oral irritation to green kiwifruit due to small crystal structures of natural fruit acids present. These seem to be present to a lesser extent in gold kiwifuit.

This may explain why you are able to enjoy gold kiwifruit. These crystal bundles are present in other fruits too, such as pineapple to which people often experience the oral irritation as well. The other common attribute between kiwifruit and pineapple is the protein digesting enzyme: actinidin in kiwifruit and bromelain in pineapple which may contribute to this irritation. Actinidin is present at 26% the level in Gold as it is in Green kiwifruit.
 
Is eating kiwifruit good for eye sight because it contains a lot of vitamin C?
It is well recognized that vitamin C is important for eye health. Kiwifruit are one of the best natural food sources of vitamin C and consuming kiwifruit is a very effective way of maintaining a good vitamin C status. There has been no direct research linking the vitamin C content of kiwifruit to eye function. Kiwifruit also contains a range of other phytonutrients also associated with eye health such as the carotenoids but again Zespri has not completed any direct research linking the two.
Is Green Kiwifruit healthier than Gold?
The quality of both varieties is excellent and they are both are very healthful fruit. However, they have slightly different nutritional composition and therefore different health benefits. Whilst the gold has a slightly different flavour profile, it is also typically higher in vitamin C than the green (160mg per100g versus 85 mg per100g), although they both deliver well over 100% of the recommended daily allowance (which is 60mg in US or 80mg in Eu).

Green kiwifruit would be the best choice for digestive health benefits in terms of laxation and comfort whereas Sungold is great for immune benefits due to the very high levels of vitamin C. Sungold have three times the amount of vitamin C as an orange. Both green and gold kiwifruit have approximately equivalent levels of potassium as a banana.
Is kiwifruit more acidic or alkaline?
Kiwifruit is an acidic fruit. It contains a range of natural organic fruit acids: citric, quinic, malic and of course ascorbic acid (vitamin C) for which it is well known.
Is Zespri Kiwifruit good for weight management?
Kiwifruit, like many fruits, provides a good supply of nutrients, and is relatively low in calories. Fruit and vegetables are important in all diets but especially for those attempting to manage their weight.
What are the iodine levels in kiwifruit?
​A recently completed investigation into the full nutritional profile of kiwifruit showed that the iodine levels were below the detection threshold. The values were reported as <0.2mcg/100g of flesh. Kiwifruit can be good for those wishing to include low iodine foods in their diet.
What effect does kiwifruit have on blood glucose levels for diabetics?
Glycaemic response depends not just on the absolute amount of sugars but also the food structure that the sugars are contained within. A glucose solution would get into the blood faster than the same sugars in a piece of fruit as our bodies have to digest the fruit to release the sugars. Glycaemic index is measured in people in the format that the food is eaten in so it is a good indication of the likely glycaemic response. Every individual is different and so we cannot make personal recommendations but this is an area we are actively researching so watch this space for more exciting results soon!
What is the average weight of a kiwifruit?
This varies year to year but fruit weight typically ranges from 100 to 120g. The edible portion is usually 80% of the whole weight



GROWING ZESPRI KIWIFRUIT
How do I become a kiwifruit grower?
Please email contactzespri@zespri.com with your details and we will be happy to email or post out to you a 'New Grower Information' pack. Alternatively, we can put you in touch with one of our Zespri Grower Liaison Mangers.
How many kiwifruit orchards are there in New Zealand?
The industry has 2,385 growers and 3240 registered orchards, with a total of 13, 896 hectares in planted kiwifruit vines.
Is it possible to have access to the Zespri grower website, The Canopy?
The Zespri Canopy is a repository of information for Zespri kiwifruit growers and post-harvest facilities and it is Zespri policy to only grant access to these parties linked to a Kiwifruit Property Identification Number (KPIN), as the site contains information that is not available in the public domain.
Is Zespri Kiwifruit grown outside of New Zealand?
A key part of Zespri growth strategy is expanding its 12month supply programme. To achieve this means Zespri Kiwifruit isn't just grown in New Zealand. Zespri has partnered with growers in the northern hemisphere to supply premium quality Zespri Kiwifruit to our customers and consumers when New Zealand Zespri Kiwifruit is not available. Zespri has licensed growers in Italy, France, Japan and South Korea to grow our exclusive Zespri Gold and SunGold Kiwifruit, and trials are in place in several other countries. Zespri also has exclusive arrangements and sources Zespri Green Kiwifruit from growers who grow premium quality kiwifruit to Zespri's high standards.
What is Zespri's position on genetic modification (GM)?
Zespri recognises that science technologies are developing rapidly and is sensitive to strong consumer sentiment in the area of GM technologies applied to food. Zespri does not fund research into development of, market or have in its inventory any genetically-modified kiwifruit.

We support research and development as a key component of the New Zealand kiwifruit industry's future success but choose not to support GM technology in developing new kiwifruit products at this time.



FRUIT QUALITY
I bought kiwifruit at my local New Zealand supermarket but I wasn't happy with the quality. What should I do?
We are sorry you had a bad eating experience with kiwifruit. Zespri is not involved in any sales of kiwifruit in New Zealand, but is permitted to export kiwifruit only under the Kiwifruit Export Regulations 1999. The fruit you purchased may have had a Zespri sticker on it, but fruit that is supplied to the local market is owned by post-harvest facilities and distributors. We have high standards for the fruit that we export and we encourage the same standards for local distributors but we unfortunately cannot enforce that these standards.

We would suggest taking the fruit back to your supermarket as they will be able to deal with the supplier directly.
Why is kiwifruit sold in New Zealand so small?
Zespri ships export grade kiwifruit to over 50 countries around the world. Fruit that does not meet the correct specification for export (due to blemish, size, shape, firmness, amongst others) is not distributed and sold by Zespri, but typically sold by the post-harvest sector, a distributor or even the local grower directly onto the domestic market.



EMPLOYMENT
How can I find on-orchard work?
We do not recruit orchard or post-harvest facility roles. If you are looking for this type of work, we would suggest contacting a post-harvest facility directly or Ian Fryer at ian@mastercontractors.co.nz.
Alternatively there are multiple online resources that may assist you finding seasonal employment; www.picknz.co.nz, www.seasonaljobs.co.nz, www.trademe.co.nz/jobs
How can I work for Zespri?
Please click here to see current employment positions that are available at Zespri. You can apply for available roles through this website and your information will be sent to the Human Resources department for their reference.



COMMUNICATION
I am a student and I'd like to learn more about Zespri for a research project. Who should I contact?
Our Zespri website contains a vast amount of information about the company, the brand categories and our industry. The annual reports can be found here. If you require any further specific information that is not available on our website, please email us at contactzespri@zespri.com with the details of your request and allow at least five working days for us to respond to your request.