4 'lighter' kiwi desserts to tantalise your taste buds
Tired of missing out at dessert time? We don't blame you! The trick is to look for options that are fresh, fun and creative.
Don't forget!
This isn't about artificial sweeteners and 'diet' alternatives. It's about satisfying your sweet tooth with a bright and bold dish that looks as good as it tastes.
Keep reading for our top 4 delicious kiwi desserts...
Light chocolate mousse with Zespri™ SunGold™ kiwifruit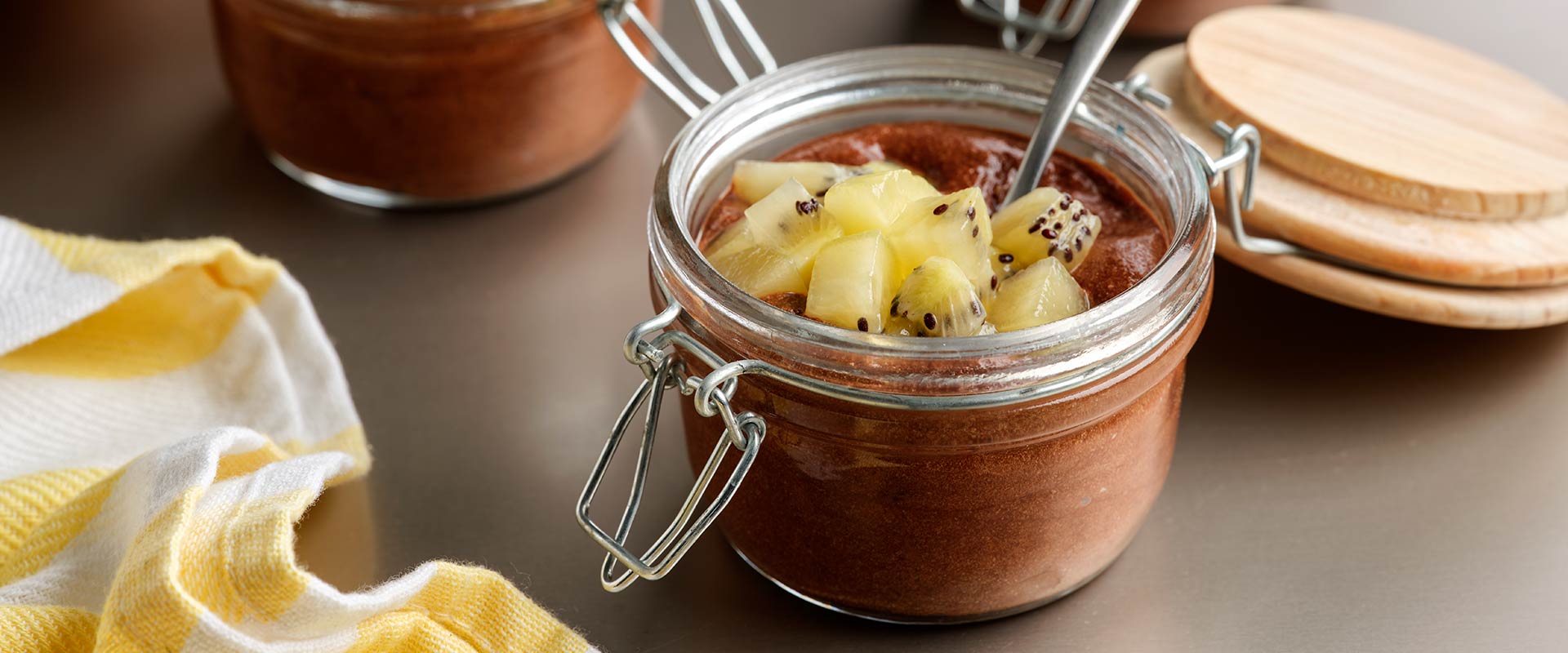 A low sugar choice for slower digestion. Whilst it's true that kiwi contains natural sugar, it can still be a good choice for those who want to manage their diabetes or control their weight. Zespri™ SunGold™ kiwifruit has a low glycaemic index (GI), which means it is absorbed and digested more slowly by the body, causing a steadier and smaller rise in blood sugar levels. We love how simple this light chocolate mousse with Zespri™ SunGold™ kiwifruit is to make – just 15 mins of prep then you can leave it in the fridge to rest whilst you get on with your day. A light dish that's light on work!
Good to know: what is a low GI food?
Low GI foods are those that have a glycaemic index of 55 or below. Zespri™ SunGold™ kiwifruit is included in this category, since it has a GI index of 38.
Kiwifruit, apricot and mint slushy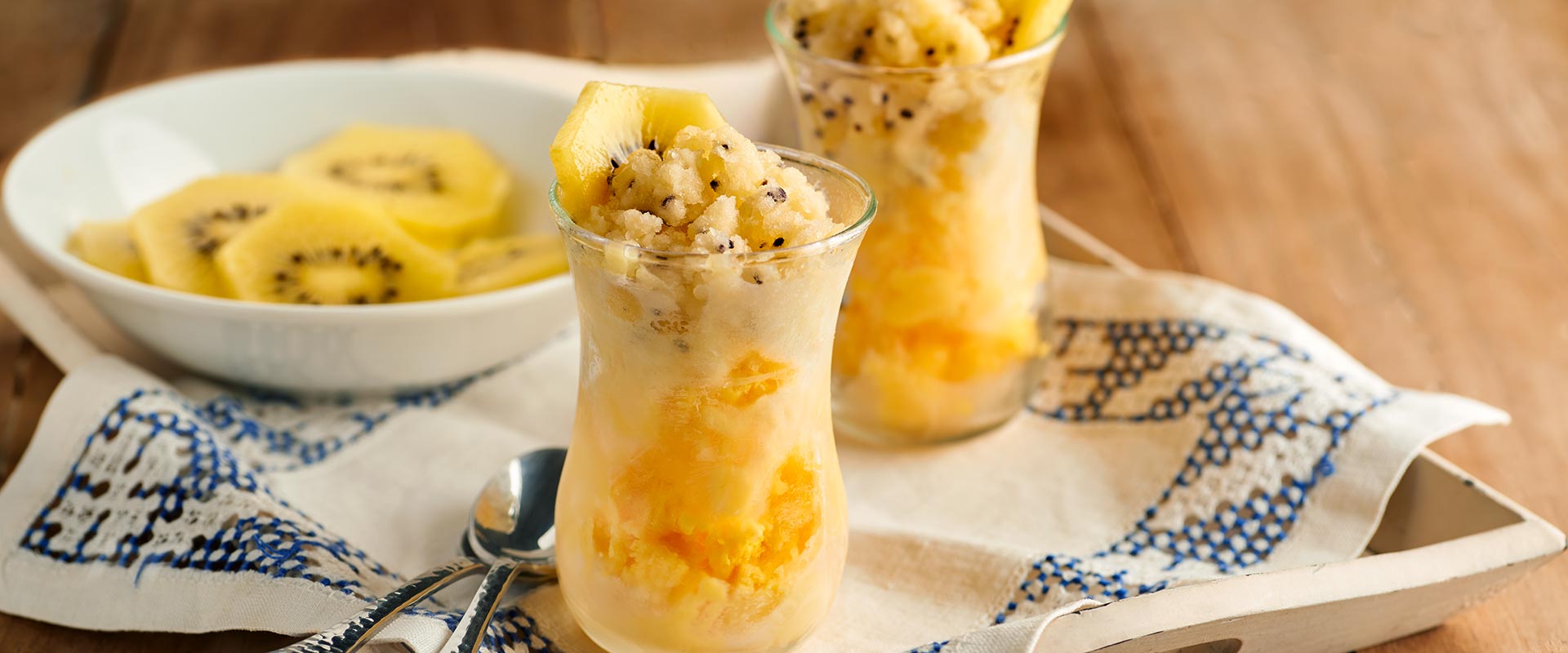 A refreshing treat that's smart on calories. One Zespri™ SunGold™ kiwifruit contains just 79 kcal per 100g, which makes it a great choice for lighter desserts. Plus, it is easy to crush or puree, which means you can get a little experimental in the kitchen. Looking for something to keep the kids occupied after-school? Invite them to help you whizz up a batch of this colourful kiwifruit, apricot and mint slushy. The kiwifruit provides the natural sweetness they crave, and you also try adding a few tablespoons of agave nectar if they fancy it.
Dessert pizzas with Zespri™ kiwifruit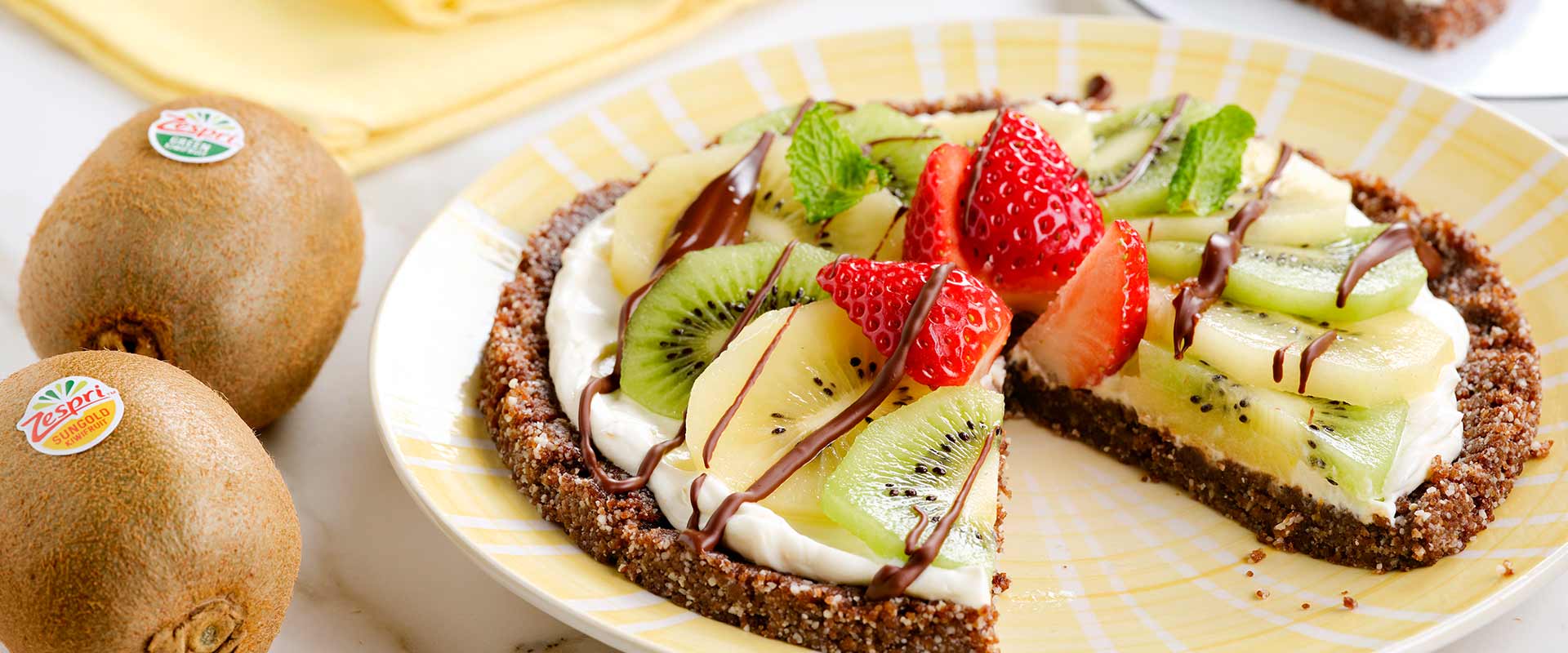 A sweet twist on a savoury classic. Who says that dessert can't be the healthiest meal of the day? Time to throw the rule book out the window! A dessert pizza with Zespri™ kiwifruit is an appetising way to serve up a whole rainbow of fresh fruit that's bursting with vitamins and minerals. Not only that, but this pizza has a gluten-free base, making it lighter and more digestible for tricky tummies.
Rice pudding with oat milk, cardamom and Zespri™ SunGold™ kiwifruit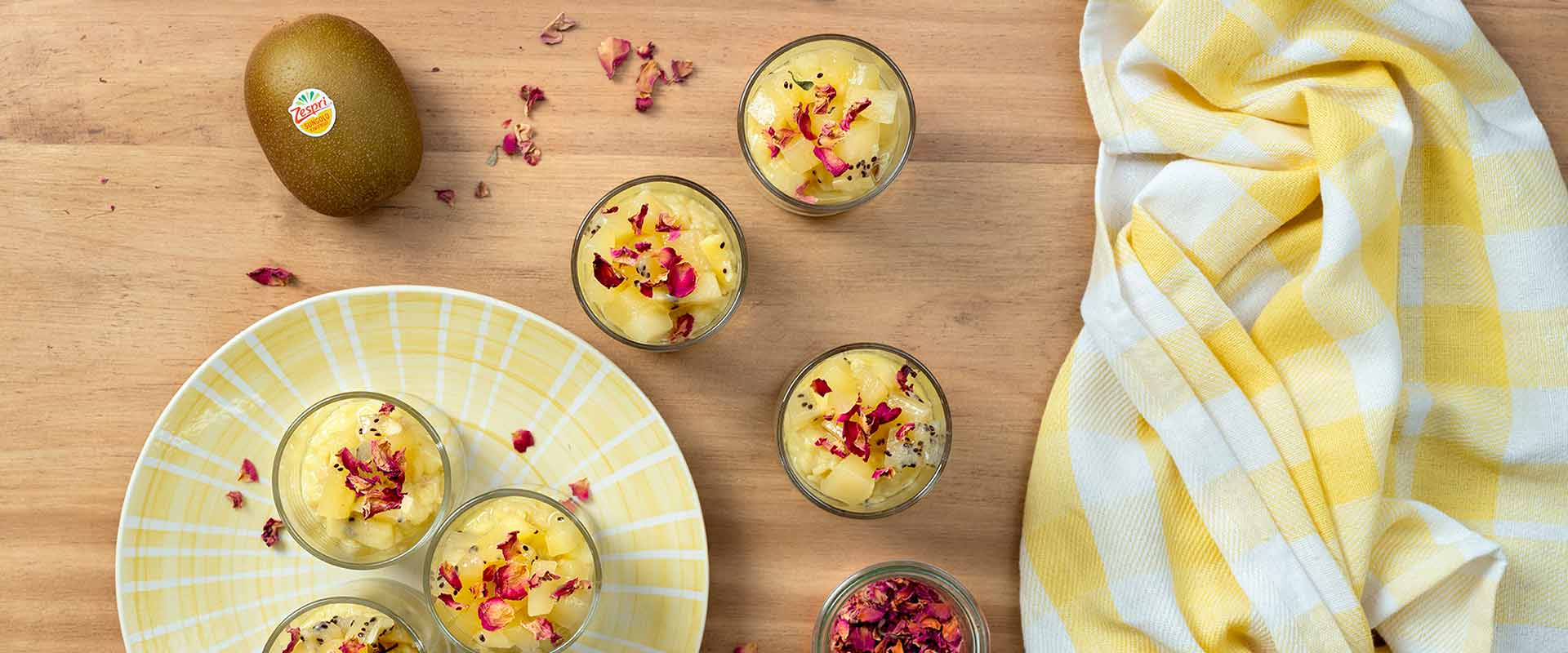 Full on flavour, low on fat. One of the best ways to create lighter, healthier desserts without scarifying taste is to make some smart swops in the kitchen. Oat milk is a fabulous plant-based alternative to dairy: once you've tried it, you'll never look back! This rice pudding with cardamon and Zespri™ SunGold™ kiwifruit brings all the creamy comfort of traditional rice pudding without the high sugar content.